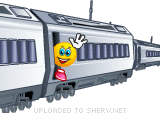 The best way to explain
The Secret Tunnel
:
Take a detective novel of Agatha Christie
Murder on the Orient Express
, replace the Belgian detective Hercule Poirot with the American amateur sleuth Edward Mitchell who lives and works as a medical doctor in Edinburgh, add a lot of SEX SCENES, make ALL men who perform here gay or at least bisexual (those are in the minority), season everything generously with fun and delicious dialogues and you have it.
Or just imagine a literature professor devoting his spare time to writing sophisticated porn. I don't mean Mitch, I'm talking about James Lear.
Mitch spends his leisure time with...er....I don't want to give something away.
The Secret Tunnel
is a book about how Mitch is spending his free time. (Have a look at the cover!)
And let us name it historical because we are talking about the 20s of the last century!
Have fun! I had!