"What am I going to do without him?" I asked in a hollow voice, and Cope replied immediately, with great force and conviction. "Write about him, Paul," he said. "That's what you have to do."
It's a book about LIFE and LOVE, not about death, emotional lines full of overwhelming sadness and grief and painful lost and regret and beautiful lyric and heartbreaking tenderness and touching memories...and LOVE, REAL LOVE.
...we never talked about dying because we were fighting so hard to stay alive.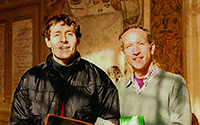 Paul Monette and Roger Horwitz
No Goodbyes
by Paul Monette

for hours at the end I kissed your temple stroked
your hair and sniffed it it smelled so clean we'd
washed it Saturday night when the fever broke
as if there was always the perfect thing to do
to be alive for years I'd breathe your hair
when I came to bed late it was such pure you
why I nuzzle your brush every morning because
you're in there just like the dog the night
we unpacked the hospital bag and he skipped
and whimpered when Dad put on the red
sweater Cover my bald spot will you
you'd say and tilt your head like a parrot
so I could fix you up always always
till this one night when I was reduced to
I love you little friend here I am my
sweetest pea over and over spending all our
endearments like stray coins at a border
but wouldn't cry then no choked it because
they all said hearing was the last to go
the ear is like a wolf's till the very end
straining to hear a whole forest and I
wanted you loping off whatever you could
still dream to the sound of me at 3 P.M.
you were stable still our favorite word
at 4 you took the turn WAIT WAIT I AM
THE SENTRY HERE nothing passes as long as
I'm where I am we go on death is
a lonely hole two can leap it or else
or else there is nothing this man is mine
he's an ancient Greek like me I do
all the negotiating while he does battle
we are war and peace in a single bed
we wear the same size shirt it can't it can't
be yet not this just let me brush his hair
it's only Tuesday there's chicken in the fridge
from Sunday night he ate he slept oh why
don't all these kisses rouse you I won't won't
say it all I will say is goodnight patting
a few last strands in place you're covered now
my darling one last graze in the meadow
of you and please let your final dream be
a man not quite your size losing the whole
world but still here combing combing
singing your secret names till the night's gone