EXCELLENT!!!
My hubby loves to watch cooking shows and sometimes I watch them with him.
It is why the first thing that came spontaneously on my mind - I blame him for this because HIS cooks like to use it-
a symphony of delicious flavors
. You know the one that touch all of the senses and causes an explosion of flavors in your mouth, like the eruption of Mount Etna.
It is exactly what Robert Karjel did to me: with his [b:The Swede|25499117|The Swede|Robert Karjel|https://d.gr-assets.com/books/1431006105s/25499117.jpg|26422880] he offered me a 5-course menu à la carte: magnificent, superb, terrific, fantastic, simply great.
I honestly don't understand an average rating here - not the first time in my life though - but
how often did you come across a book that you wanted already to rate with 5 stars halfway up to the end?
I knew around 50% that I have been reading something special: a multilayered complex and INGENIOUS story line, soooooo brilliantly written (sincerest thanks to Nancy Pick, the translator, I know what a difficult job it is, but she did it perfectly) and
THE CHARACTERS....THE CHARACTERS are..( I need Nancy Pick to translate for me!..)
It is when I have to say some words about THE SWEDE. There are two of them in this book: Ernst Grip, a Swedish security officer, and N., a prisoner with an unknown nationality, presumable SWEDISH, but Ernst has to prove it. The original title of this book is actually
My Name Is N
. But if you read [b:The Swede|25499117|The Swede|Robert Karjel|https://d.gr-assets.com/books/1431006105s/25499117.jpg|26422880], then you think about Ernst Grip as THE SWEDE. Well at least I do. I don't want to tell about the plot, because it is twisted and unique and soooo clever and I don't want to spoil you anything.
This book has EVERYTHING to offer:
spy thriller, nature catastrophe, romance (not in the main focus though), religious fanatics, art, suspense, policy, great writing, mysterious and captivating story, fabulous characters and wow-ending.
Just go and read it.
ASAP.
For your information:
-> This book has been nominated for the 28th Lambda Literary Award in the category Gay Mystery. It is WHY I decided to read it. Honestly, I would have probably skipped it - the rating wasn't very impressive and I wouldn't have discovered this book otherwise if it hadn't landed on the "lammy" list. It is why I am grateful to the jury for nominating this book and thereby made me aware of it.
- > Robert Karjel is a lieutenant colonel in the Swedish Air Force. (I'm impressed, and not only because of the back cover that has a photo of him in his flight suit.) I've never thought that helicopter pilots could have such an interesting hobby like writing.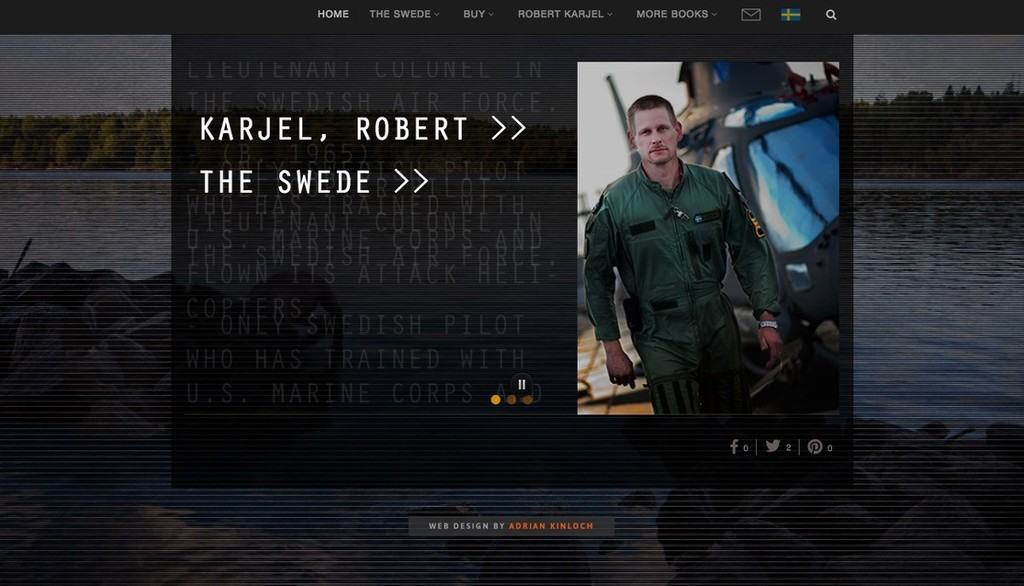 - > Don't read it if you want in the first place a romance. It is NOT a romance, it is in the first place a great psychological thriller.
-> Be warned: it is a thriller with a bisexual hero. It seems that some readers have
problems
with it.
-> It is exactly why I have to warn you: FEELINGS, TENSION, GUNS, BLOOD, INTERROGATIONS, RELIGIOUS FANATICS, TSUNAMI... and THE SWEDE.
But if you decide not to read it, it is your own fault.
HIGHLY HIGHLY HIGHLY RECOMMENDED!!!
*** Reading with Sofia, starting on the 18th April 16. It was my pleasure as always.